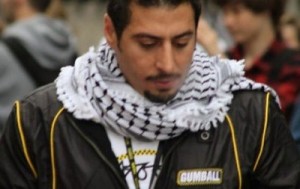 [Source: MondoWeiss]
Raed Zidan, a PALESTINIAN- American, plants the Palestinian flag on top of Mount Everest, to be the first Palestinian to ever reach the summit of Everest.
Zidan dedicated his climb to Palestinians, especially political prisoners.
Way to go Zidan, not only did you make your family proud, but you made all Palestinians and pro-Palestinians extremely proud.
With this historical accomplishment, you'll be forever remembered as the first Palestinian who marked the existence of Palestine on the highest Mountain on the face of this planet.
It is to be mentioned that Raed Zidan  is a member of the "Arabs with Altitude" group, consisting of 4 members, that include Raha Moharrak, the first Saudi woman to reach the top of Everest, Qatari Shaikh Mohammad Al-Thani, aka Moe Al Thani, and Iranian Masoud Mohammad. The group's main goal is to raise a million dollars for the funding of Reach Out To Asia's educational projects in Nepal.