Long Live the Book
Today in the library while scanning the bookshelves in search of some interesting children books to get for my son to read, a cutely illustrated cover caught my attention, as did its title: It's a Book.
To be honest it got me curious… what would be inside a book titled 'It's a Book'? I flipped it over -as I always do with books of interest- hoping to find some kind of a summary to give me a hint. This is what I found: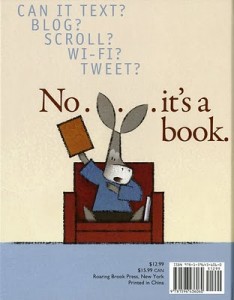 And that's when I decided to give it a quick read. I must say I very much liked what I read. How do I put it? it's a very simplified way of reflecting our very complicated lives today. Now that communication -the cool type- is done online, briefly, socializing with hundreds of people at the same moment, and still managing to be entirely isolated from our surroundings. Our complicated lives in places where one can only smell electric wires, see shiny screens, tap keyboards, touchscreens, click a mouse here, plug in an earphone there, surrounded with all kinds of noises and radiation there is.  Today, where books belong in a museum, or the facade of an antique store, or in an article about extinct inventions.
The author and illustrator Lane Smith has beautifully addressed one of the most irritating problems of our time: forgetting about the simple pleasure of reading a book, just a book, the music you play when you turn its pages, the unbeatable scent of its printed paper… forgetting about books, their simplicity.
How did it become so hard for parents to indulge their little ones with the pleasures of reading, just reading, away from passwords, screens, videos, games, and all that jazz. I'm not against "all that jazz", but I hate how many parents, and even teachers, are encouraging the online activities more and more to the point where they're subconsciously -or consciously- keeping them away from books, forgetting that books too can develop their skills just as good, and that books too can be interactive instruments that enrich knowledge, improve behavior, and spread awareness.
I'll leave you with the book's awesome trailer. As for me, it's time for Adam's bedtime story, guess which one that would be? 😉